Blog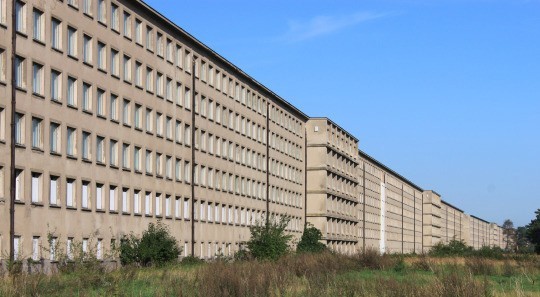 How the Nazis built the biggest hotel in the world
Posted on: 22/03/2016 with tags: guy saville, Hitler, nazis, The Madagaskar Plan, world war II, WW2
Think of the Nazis and what comes to mind? Hitler's demagoguery and massed ranks of black uniforms? The war? The Holocaust? What you probably don't think of is package holidays, cruise-ships and beach resorts. Yet the Nazis were at the forefront of modern tourism.
Shortly after coming to power they established Kraft durch Freude (KdF: Strength through Joy), a leisure organisation. By 1937 it was the biggest tour operator in the world, organising cheap holidays for over 1.4 million people – as long as they joined the Nazi Party. There were hiking trips to the Alps and tours of the Mediterranean; a fleet of cruise-liners took Germans to destinations as varied as the Norwegian fjords and oases of Libya. Hitler approved: 'Every worker will have his holiday… and everybody will be able to go on a sea cruise once or twice in his life.'
KdF's most ambitious scheme was to build a beach resort in Prora, on Germany's Baltic coast. Here they constructed a hotel on a gargantuan scale with enough rooms to accommodate twenty thousand guests at a time, a record that remains to this day. The inspiration had been Butlin's, but re-imagined through the eyes of a megalomaniac. Because the Prora resort held no military function it wasn't bombed, nor was it pulled down after the war. In fact the post-war authorities didn't know what to do with it – so it remains there to this day, slowly going to ruin (with one section persevered as a museum). I visited it on a research trip and was awed by the scale of the place. Its frontage stretches unbroken for kilometres and took me a good hour to walk from end to end. The architecture is martial, monotonous.
Prora was meant as a prototype for other resorts. If Hitler had won the war, the KdF intended to expand its network of hotels to the Crimea, Sweden, Argentina and Africa. The latter was a detail I couldn't resist.
My new thriller, The Madagaskar Plan, is based around a Nazi plan of the same name: an audacious scheme to deport the entire Jewish population of Europe to the remote island of Madagascar. In my book, there are also scenes set in German Africa, including modern day Tanzania where the KdF have succeeded in building another mega-hotel like Prora. I wanted the reader to know what it was like to be a guest, so included a scene where the protagonist stays a night. My research told me he would find a cramped room with twin beds and soft furnishings in cream and brown. 'A holiday cell' the hero calls it.
My novel also shows a more sinister side to the Nazis' holiday organisation. If they were going to deport millions of Jews to Madagascar, a fleet of ships would be needed. Himmler intervened personally, saying that the KdF's cruise-liners could be used. They would join an armada of 120 ships, conveying a million Jews a year to a fate far different from those relaxing in Prora.
***
Guy Saville's The Madagaskar Plan is out now in paperback and as an ebook. Set in 1953, it imagines a world where Nazi Germany rules much of Europe and a vast Africa territory. There has been no Holocaust. Instead, five million Jews have been deported to Madagascar, a tropical ghetto ruled by the SS…