Blog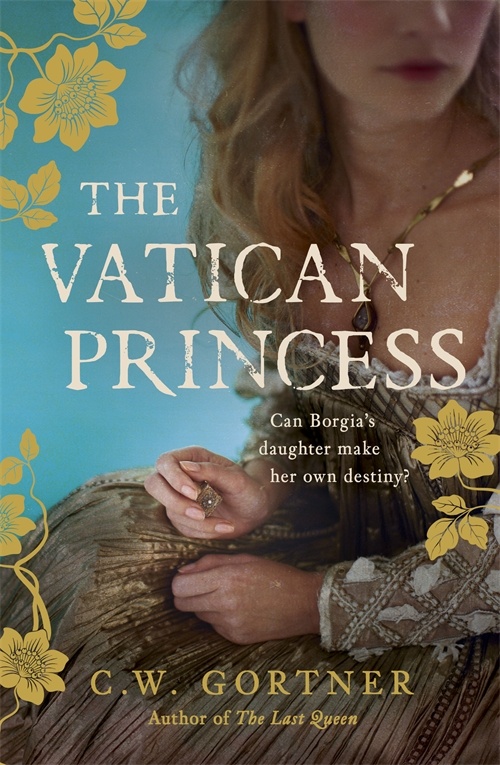 Lucrezia Borgia: Fiend or Scapegoat? – C.W. Gortner
Posted on: 12/01/2017 with tags: borgia, c w gortner, lucrezia borgia, the borgias, the vatican princess, Renaissance
Centuries after their spectacular rise and fall, the Borgias continue to enthrall historians, film-makers, and novelists alike. They are perhaps the most famous, if misunderstood, family in history—their grisly deeds and glamorous personalities giving rise to a myth which can be traced to the lack of information we have about what went on behind their closed doors.
Of the Borgias, Lucrezia's plunge into a maelstrom of political intrigue in 15th century Rome has arguably made her the most controversial. She is known as the quintessential femme fatale, luring men to death with her arsenal of poisons, reputed to be the lover of both her father and her brother, Cesare. How much of her sordid reputation is true? Was Lucrezia a fiend or a scapegoat?
Lucrezia was only twelve when her father Rodrigo Borgia ascended the Holy See as Pope Alexander VI. It was 1492: a pivotal year that witnessed Queen Isabella of Castile's defeat of the Moors in Spain and dispatching of Columbus to discover a new world. Like Isabella, the new pope was Spanish. The Borgias—or Borjas—were a prominent family from Valencia who'd fought for the Spanish Crown of Aragon during the Moorish crusades. Rodrigo Borgia, destined to enter the priesthood, earned a doctorate in divine law in Bologna. At the age of twenty-six, he went to Rome under the auspices of his maternal uncle, Pope Calixtus III, who appointed him as vice-chancellor of the Church. Such nepotism was common in the hallowed halls of the Vatican, and Rodrigo proved adept, working for his uncle and subsequent popes while amassing a fortune and reputation for genial ruthlessness before he finally won the See for himself.
The Borgias were detested by many, including the conspiring families who dominated Italy's fractured landscape, all of whom craved the Vatican's power for themselves. Rodrigo earned envy for his suave political maneuvering and rapacious taste for opulence and women—he was one of the few popes who was open about his appetites—and of course, he was excoriated for his foreign blood. The fact that a Spaniard had won the Papacy over various Italian-born cardinals—each as scheming as him—did not sit well among his rivals. ,  But Borgia was adored by the people, and his favorite  children, Juan, Cesare, Lucrezia, and Gioffre, were allocated roles in his elaborate gambit to forge a dynasty that  would succeed him. His ambitions were not uncommon to his era, yet these too were cited as proof of his venality. In his bellicose attitude and contemptuous disregard for propriety, Rodrigo sowed his own terrible reputation.
Lucrezia dwelled in the shadow of her father's dominance. The scandals surrounding her mounted when her first marriage was abruptly annulled due to claims that her husband was impotent. He, in turn, fired off the accusation that the marriage was being annulled so the pope "could have her for himself." It is true that Rodrigo adored his daughter, when it suited him, but no evidence has been found to prove his love for Lucrezia was incestuous. However, the Borgias' status and Spanish provenance, coupled with their public displays of affection and luxuriousness, worked against Lucrezia, who bore the brunt of the calumny. Her second marriage, by all accounts a loving one, ended at the hands of Cesare, already a suspect in the mysterious death of their brother, Juan. By the time Lucrezia escaped Rome for her third marriage and the Borgia reign collapsed, she was dragging behind her the weight of her family's sins.
In 1883, Victor Hugo wrote his play Lucrèce Borgia, loosely based on stories about Lucrezia; it became the basis for Donizetti's famous 1834 opera. These artistic, highly fictionalized accounts added to her dark reputation. But in their authors' defense, rumors were mostly what they had to go by. The first scholarly account of Lucrezia did not appear until many years later; even then, little left behind by the Borgias shed light on this enigmatic woman who'd navigated the heart of familial chaos and survived it. And to this day, though we lack credible evidence that Lucrezia killed anyone, her legend persists—a story so fascinating, we find it nearly irresistible. We'll never know who the Borgias truly were, which can account for their ongoing appeal, but it is inarguable that they were dangerous, even lethal at times; and like many of their contemporaries, intent on securing their legacy at any cost.
It is the untold story of Lucrezia's dramatic youth that inspired me to write The Vatican Princess. Of all the novels I've written, this one was the most challenging. Years of research, including time spent in the Vatican Archives, yielded more questions than answers, despite ample documentation of pivotal events. In searching for Lucrezia, I had to rely on my inner understanding of how a privileged young girl may have reacted to the powerful people around her, none of whom had her best interests at heart. It is the story of how family defines and binds us, and how, ultimately, loyalty can be a curse.
The truth may never be ascertained, but one thing is clear: Lucrezia has become the Borgia scapegoat, though she did nothing to deserve it.
C. W. Gortner's latest novel The Vatican Princess is out now.