Alison Weir introduces KATHARINE PARR: THE SIXTH WIFE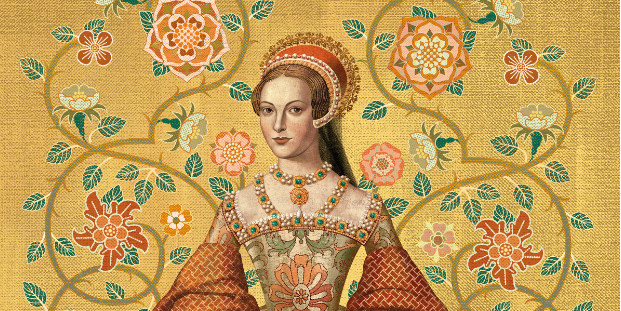 With publication of the sixth book in her Six Tudor Queens series in 2021, Alison Weir introduces Henry's last wife, Katharine Parr.
Of Henry VIII's six wives, Katharine Parr was so much more than the one who 'survived'. A passionate woman, unusually well-educated for her time, she was an ardent reformer and the author of three books – the first woman in England to publish under her own name. She had four husbands – effectively, four very different lives – and she was close enough to the turbulent events of the Tudor Reformation to experience their adverse impact.
Katharine secretly embraced the new Protestant faith at a time when Henry VIII was sending Protestants to the stake for heresy. She was reluctant to accept his proposal because she was in love with Sir Thomas Seymour, the brother of Jane Seymour, Henry's third Queen, and they were planning to wed. Yet she felt that God was calling her to aid the cause of reform, and so she married the King. She had to keep her beliefs hidden while trying to steer him towards religious tolerance and the tenets of her own faith. This challenge brought her into great peril; her enemies were watchful, and she only narrowly escaped a brutal death. Yet she made an excellent queen to Henry, even though her heart belonged to Seymour – another dangerous secret she had to keep from the King, who had executed two previous wives for adultery. But Katharine kept her secret well.
She left behind not only her books on religion, but also a wealth of letters, which are an invaluable gift to a novelist. The warmth of her personality shines across the centuries from her own writings and the praise of others. She was much more than a mere nurse to the ageing King, who cared deeply for her. And yet, when Katharine finally found true love, it ended in tragedy.
'A detailed and convincing portrait of an extraordinary life... this series is a serious achievement' THE TIMES

'This brilliant series has brought Henry VIII's six wives to life as never before. This novel will enthral and inspire, just as much as it will break your heart' TRACY BORMAN

Alison Weir, historian and author of the SUNDAY TIMES bestselling SIX TUDOR QUEENS series, recounts the story of Henry VIII's last wife - Katharine Parr, the queen who survived him.

---

A WOMAN TORN BETWEEN LOVE AND DUTY.

Two husbands dead, a boy and a sick man. And now Katharine is free to make her own choice.

The ageing King's eye falls upon her. She cannot refuse him... or betray that she wanted another.

She becomes the sixth wife - a queen and a friend. Henry loves and trusts her. But Katharine is hiding another secret in her heart, a deeply held faith that could see her burn...

KATHARINE PARR. HENRY'S FINAL QUEEN. HER STORY.

Renowned, bestselling historian Alison Weir reveals a warm, clever woman of great fortitude who rose boldly to every turn her life took.

'Katharine Parr deserves better than to be known just as Henry VIII's sixth wife - the one who survived. And there's no-one better placed than Alison Weir to restore her to her rightful place' SARAH GRISTWOOD

'The conversations are sparkling, gripping and word-perfect. As King Henry ages, the machinations of his vicious court are never far away' HISTORICAL NOVEL SOCIETY

'For the first time I felt as though, thanks to Alison's skilful writing and storytelling, I came to "know" Katharine' NICOLA TALLIS

'A tour de force. If you think you know everything about Henry VIII's last queen, you're in for a wonderful treat - you don't!' SUSAN RONALD

'An absorbing and fascinating read, meticulously researched as is always the case with Alison's work, and she really made Katharine live' SARAH RAYNE

---

PRAISE FOR THE SIX TUDOR QUEENS SERIES:

'Weir is excellent on the little details that bring a world to life' Guardian

'Profoundly moving... lingers long after the last page' Elizabeth Fremantle

'Well researched and engrossing' Good Housekeeping

'Utterly gripping and endlessly surprising' Tracy Borman

'Hugely enjoyable . . . Alison Weir knows her subject and has a knack for the telling and textural detail' Daily Mail