A Darkness in the Neighbourhood, A Twisted Sense of Place by Nina Allen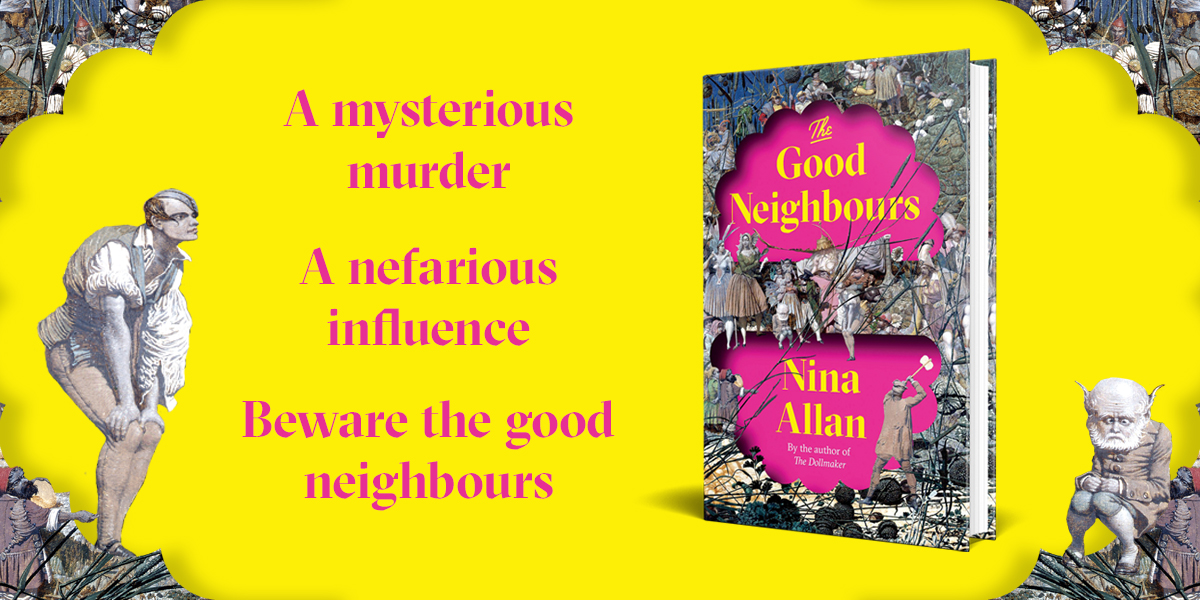 In Claire Fuller's Women's-Prize-shortlisted novel Unsettled Ground, fifty-one-year-old twins Jeanie and Julius still live with their mother, Dot, on a rented smallholding in rural Wiltshire. Julius earns a meagre living working on local construction projects; Jeanie and Dot scrape an income selling vegetables and free-range eggs produced on the scrap of land that surrounds their cottage. The cottage has been their home for all of their lives, but when their mother dies from a stroke, the twins' whole way of life is thrown into jeopardy. While Julius struggles to assimilate himself into the day-to-day life of the village, Jeanie is plagued by questions surrounding the facts they have been told about themselves, long accepted as truth but now, as the book's title suggests, unsettled ground. The biggest and most urgent question is one of money. Pushed further and further into poverty, Julius and Jeanie are desperate for help, but so unused to asking for it that their plight is only partially understood by even their nearest neighbours.
Unsettled Ground reveals a side of country life well understood by writers such as Thomas Hardy and George Eliot, but that has only rarely been explored in contemporary fiction. For a century and more, the main focus of the social novelist has been urbanisation, and when we think of poverty the images most likely to come to mind are of run-down council estates and deprived communities in our inner cities. We have yet to see what long-term effects the COVID pandemic will have on the economy of the countryside, but with increasing numbers of city-dwellers moving into rural communities, the pressures on local people and infrastructure are likely to be intense. A growing awareness of climate change is pushing today's writers to look more closely not only at the natural world itself but at the farming, fishing and tourism communities that rely on it. The idea of nature writing as a form of escape from contemporary anxieties is giving way to a deeper recognition of the political and social relationship between humans and their environment.
When I first began writing the novel that would eventually become The Good Neighbours, I was living in mid Devon, in a small village whose generations-long ties to agriculture were everywhere apparent. The old milking parlour at one end of the village was still a working enterprise, as was the seed and feed mill at its centre. The village store had been run by the same family for a hundred years.
Memories are long in places like this, and stories die hard. I first came to the West Country thirty years before, to study. I remembered being told about a family murder that had taken place less than ten miles from where I was now living. The dramatic nature of such a story, together with my desire to learn more about my immediate surroundings, drove me to find out what I could about the family and what had happened to them. The story I uncovered – one of ill-fortune, mounting poverty and ties to the land that were both a lifeline and a stranglehold – was more compelling and more tragic than I had imagined.
The year 1816 has become known as the year without a summer. In 1815, the volcano Mount Tambora in Indonesia suffered a cataclysmic eruption, precipitating a series of extreme weather events across the planet. A significant drop in worldwide temperatures, together with excessive rainfall and abnormal atmospheric conditions, resulted in the deaths of millions through famine, disease, displacement and civil unrest. The disaster was all the more horrifying because for most of those living through it, it seemed to come out of nowhere. For ordinary working people, the idea that a volcanic eruption thousands of miles away might affect their own harvests and food supplies was so far-fetched they were more likely to blame their hunger on sorcery. Those who were poor before faced imminent extinction, while many who were previously wealthy were ruined. Farmers everywhere were forced so far back on their resources that even when conditions improved they were no longer the same people.
For one Devon family in particular, the year without a summer saw the beginning of a slow slide to ruination that would end, one hundred and fifty years later, in the murder-suicide of its three last surviving members, a sister and two brothers who for decades had become so cut off from their community they had become the subject of local gossip and unfounded scandal. The true cause of their segregation was rural poverty. The more hopeless their position became, the deeper their sense of isolation and shame. The farm machinery they were attempting to use had been old-fashioned even at the turn of the century, and yet their attachment to their land and to their family history remained unbroken. The idea of living anywhere else – of leaving the farm for a modern bungalow in a nearby town – proved more devastating, to one of them at least, than the idea of death.
The village where all this happened is uncommonly beautiful, and it was this contrast – between the rapturous tranquillity of the surrounding fields, and the harsh and often precarious lives of those who work them – that kept insisting I should try to write a novel that explored the darker aspects of our sense of place. Several unexpected things occurred during the writing of The Good Neighbours: Brexit happened, Trump happened, and somewhere in the middle of all that, I moved five hundred miles north to the Isle of Bute, off the west coast of Scotland. This relocation, and the sense of disjuncture that inevitably followed, had its effect on my work in progress, which turned out very differently from the book I had envisioned. What remained unchanged throughout were its central concerns: a family cut off from their community for reasons that go back decades, if not longer, the brute fact of material hardship and the shame that goes with it, secrets that become so pervasive they destroy those who keep them.
'The good neighbours' is just one of a multitude of secret names for the fairies, a roundabout way of mentioning those-who-should-not-be named. And while the kind folk do absolutely cast their spell over the pages of my new novel, I wanted the book's title to prompt additional questions in the mind of the reader: are the people who come into contact with Susan and Shirley good neighbours? Are any of us? How can we learn to relate to one another in an age when mass communication has eaten away at the fabric of personal relationships?
Sense of place is vital to The Good Neighbours, even if the place I ended up in is different from the one I started out from. I wanted, above all, to write a book that examines our bond with where we live and work, what draws us to a place, or repels us, and how we can learn to live with those who share our space. In the times we are living through currently, such questions feel more urgent than ever.
FURTHER READING:
Earth to Earth: a true story of the lives and violent deaths of a Devon farming family by John Cornwell. This unusual and riveting account of what happened to the Luxton family of Winkleigh is not just the story of a murder, but of the end of a whole way of life. Reading this book while living just down the road from the places described was an unforgettable experience for me, and planted the first seed for what would eventually become The Good Neighbours.
The Year Without Summer by Guinevere Glasfurd. Longlisted for the Walter Scott Prize for historical fiction, this novel traces the events of 1816 and the devastating aftermath of the Tambora eruption through six very different characters, including the painter John Constable and the writer Mary Shelley, whose lives and art were directly affected by the catastrophe.
Jawbone Lake by Ray Robinson. An engrossing murder mystery but so much more than that, Jawbone Lake exposes the stark inequalities faced by communities in the Peak District. An idyllic getaway for some, the landscape of poverty and deprivation for others, the moors and mountains that form the backdrop to Robinson's story are etched upon the lives of all who live in their shadow.
The Sing of the Shore by Lucy Wood. Wood's third book to date, and in my opinion her best, this is a superb collection of stories set in Cornwall in the off season. Jobs are scarce and money is tight. Picturesque villages become deserts of closed-for-winter hotels and shut-up second homes. Wood's insight into character is as sure and striking as her feel for landscape.