The Empress Matilda and the Stolen Crown
When I began to write Empress Matilda's story I wondered if anybody even knew who this twelfth century princess was. Most have heard of the conflicts between Cromwell and Charles I or that between King Harold and William the Conqueror, but how many, if asked, would be able to tell you about Matilda and the Civil War that raged through England during the mid-twelfth century.
Why would I write a novel about this couple and their struggle for England's throne? Their story is a surprisingly intriguing one based on Historical facts including double-crossing, thrills, jeopardy and, most importantly vivid and unforgettable characters. It's a twelfth century Game of Thrones and these personalities' stories provide a gift for any writer of Historical Fiction. In dramatizing History writers create gripping narratives and try to recreate past worlds peopled by believable and fascinating protagonists. Below is a short background to the story.
Henry 1 had around nineteen illegitimate children but only two legitimate heirs, William and Matilda. In 1120, when his son William died in the White Ship disaster, Matilda, also known as Maud, became his only surviving legitimate heir.
As a child, she had been given in marriage to the Holy Roman Emperor, William the Lion. In 1125, Matilda's husband, the Emperor, died so Henry I recalled her to England. He insisted that his barons and bishops take an oath to recognise Maud as Queen after his own death. A woman as a queen in her own right rather than as a Queen Consort was unheard of. William of Malmesbury, witness to these events, wrote about the oath taking:
'…if he [Henry] should die without male issue they [barons and bishops] would without delay or hesitation accept his daughter Matilda, the late Empress as their sovereign…observing how prejudicially fate had snatched away his son.'
Maud was a woman of great pride, intelligence and power. But then, her father wanting a grandson as double insurance for the continuity of his ruling House and the security of Norman borders, brokered a marriage for her to the fifteen year old, handsome, red-headed, arrogant youth, Geoffrey of Anjou. She was insulted and only agreed reluctantly. Initially this marriage was a disaster. Possibly she would have preferred marriage to the noble Brien Fitz Count but he was already married to doughty Tilda of Wallingford.  Either Geoffrey sent her back to her father or she left but she was peremptorily sent back to Anjou to try again. Interestingly, this time, the reunited couple had three sons in quick succession.
When Henry died in 1135 from the much quoted surfeit of lampreys to which he was allergic, Maud's cousin Stephen seized the crown of England with the help of bishops and barons in contravention to their oaths to Henry. A number of nobles lost out during Stephen's first three years of kingship. One of these was Matilda's loyal half-brother Robert of Gloucester. Another was Brien Fitz-Count of Wallingford and the third, Miles of Gloucester, was a brilliant bear-like warrior and strategist. Loyal to their oaths, they sought her return to claim her 'stolen crown'.
King Stephen born around 1096, was the son of William the Conqueror's daughter, Adela and the Count of Blois-Chatres, a principality wedged between Normandy, Paris and Anjou.
Stephen grew up at Henry I's court and became an accomplished courtier. 'This', writes his biographer, David Crouch, 'was partly through his natural disposition and partly through alertness to the culture of court. He was even-tempered and good-humoured, the necessary qualities for a courtier.' Henry 1 arranged a handsome marriage for Stephen to Matilda, heir to the county of Boulogne. The marriage facilitated trade which pleased London merchants.
Stephen soon upset many of his co-conspirators. This was the signal for Maud's half-brother, Robert of Gloucester, to persuade her to secretly return to England and claim her stolen crown.  It is now that Matilda's story becomes utterly thrilling. It's a narrative of sieges, pursuit and chase, the capture of a King, two competing queens and a series of escapes. Maud's attempt to be crowned at Westminster collapsed in the face of opposition from the residents of London. She was never formally declared Queen of England but given the ancient Saxon title 'Lady of the English'. Contemporary sources say she was considered arrogant by London's Burghers; that she deepened her voice to appear like a man. The truth is she made mistakes, tried to force a tax, and would not take advice.
After Maud's aborted crowning there were two queens on the chessboard, both capable politically. Stephen's queen, Matilda of Boulogne, takes up the King's cause. Amongst a gallery of interesting characters there is also the scheming Bishop of Winchester, Stephen's brother, a man who saw the best chance and was adept at changing sides.
Further thrilling events follow including a double siege at Winchester. Matilda was besieged in Oxford Castle during deep mid-winter and forced to escape across the Thames in the snow to Abingdon. This was a time described in the Anglo-Saxon Chronicles as one 'when Christ and his Saints slept' because large parts of the country were in the control of independent barons. Law and order disintegrated. Meanwhile, Geoffrey of Anjou
was successful fighting for Normandy which was currently part of the English crown. He was a surprisingly brilliant captain of war. A settlement over England's destiny is reached eventually, but it took time.
Woven into the Historical narrative are imagined characters and sub plots which add depth and colour to the novel's storyline.  It is a very human and moving story with many twists and turns, triumphs and setbacks. Giving life to the personalities involved in these events was a challenge that I have loved.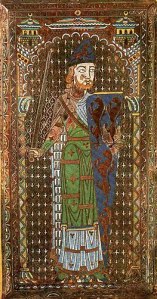 To find what happened next to the protagonists of this story do read The Stolen Crown which is published by Headline on 18th May.
Bibliography
William of Malmesbury's Chronicle of the Kings of England From the Earliest Period to the Reign of King Stephen
The Birth of Romance, An Anthology Trans by Judith Weiss
The Empress Matilda, Marjorie Chibnall
Matilda, Empress, Queen, Warrior, Catherine Hanley
The Reign of King Stephen, 1135-1154, David Crouch
The Gesta Stephani