Rooftop Bookclub comes to H for History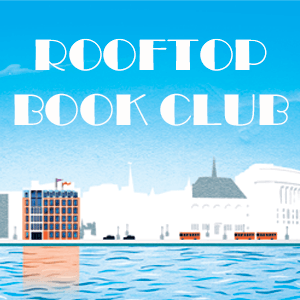 Join the H for History team on Thursday 10th November on the fabulous rooftop of Hachette HQ! Overlooking the Thames and the stunning London skyline, there will be two fascinating panel discussions.
Tickets include two drinks to enjoy during the event, delicious nibbles, a book signing and packed goodie bag containing exclusive early proofs of three forthcoming historical treats.
All this for just £10 per ticket! Click here to buy. Arrive for a prompt 6.30pm start. The event will run until 9.00pm.
PART ONE:
The Corners of the Empire: Exploring the Romans in Fiction with Simon Scarrow, Lindsay Davis and Anthony Riches chaired by James Heneage
   Simon Scarrow is a Sunday Times No. 1 bestselling author. His many successful books include his Eagles of the Empire novels featuring Roman soldiers Macro and Cato, such as BRITANNIA, THE LEGION and CENTURION, as well as HEARTS OF STONE, set in Greece during the Second World War, SWORD & SCIMITAR, about the 1565 Siege of Malta, and a quartet about Wellington and Napoleon including the No. 1 Sunday Times bestseller THE FIELDS OF DEATH. He is the author with T. J. Andrews of the bestselling novels ARENA and INVADER.
   Historical novelist Lindsey Davis is best known for The Course of Honour, the true story of the Emperor Vespasian and his mistress Caenis, and for her twenty volume mystery series featuring Roman detective, Marcus Didius Falco, with its recent addition of Falco: the Official Companion, a cheery handbook for readers. She has also written Rebels and Traitors, an epic novel set in the English Civil War and Commonwealth. She has won the CWA Historical Dagger, Dagger in the Library, and a Sherlock for Falco as Best Detective. She has been Honorary President of the Classical Association, and Chair of the Crimewriters Association. In 2010 the city of Rome gave her the Premio Colosseo, awarded `for enhancing the image of Rome` and in 2011 she was awarded the CWA Cartier Diamond Dagger for lifetime achievement.
   Anthony Riches began his lifelong interest in war and soldiers when he first heard his father's stories about World War II. This led to a degree in Military Studies at Manchester University. He began writing the story that would become Wounds of Honour after a visit to Housesteads in 1996. He lives in Hertfordshire with his wife and three children.
   Chaired by James Heneage – author of The Mistra Chronicles and founder of the Chalke Valley History Festival and Ottakar's bookshop chain.
PART TWO:
Lords, Ladies and Usurpers: Writing Real and Fictional Historical Characters with Alison Weir, Robyn Young and S. D. Sykes chaired by Katherine Clements
Alison Weir is the top-selling female historian in the United Kingdom, and has sold over 2.7 million books worldwide. She has published seventeen history books, including Elizabeth the Queen, Eleanor of Aquitaine, The Lady in the Tower and Elizabeth of York, and five historical novels. Her latest biography is The Lost Tudor Princess. Katherine of Aragon: The True Queen is the first in a series of novels about the wives of Henry VIII.
   Robyn Young's first novel, BRETHREN, went straight in to the Sunday Times top ten, becoming the bestselling hardback debut of the year.  In 2007, she was named one of Waterstone's twenty-five 'authors of the future'.  The inspiration for Robyn's new bestselling trilogy, which began in 2010 with INSURRECTION, was a research trip to Scotland and is based the life of Robert Bruce. Her novels have been published in 22 countries in 19 languages and have sold almost 2 million copies.
   SD Sykes lives in Kent with her family and various animals. She has done everything from professional dogwalking to co-founding her own successful business. She is a graduate from Manchester University and has an MA in Writing from Sheffield Hallam. She attended the novel writing course at literary agents Curtis Brown where she was inspired to finish her first novel. She has also written for radio and has developed screenplays with Arts Council funding.
   Chaired by Katherine Clements – Katherine has a passion for history and a degree in the subject. Until recently she worked for a national examination board, where she led the development and launch of the UK's first A level in Creative Writing. She has enjoyed success with her short stories and won a Historical Short Story Competition sponsored by Jerwood in 2012. The Crimson Ribbon was her debut novel.
Competition:
Win historical titles for a year with Rooftop Bookclub! Simply buy a ticket to the event to be entered into our draw to win a book a month throughout 2017! Terms and conditions here!