Henry VIII's Marriage to Jane Seymour by Alison Weir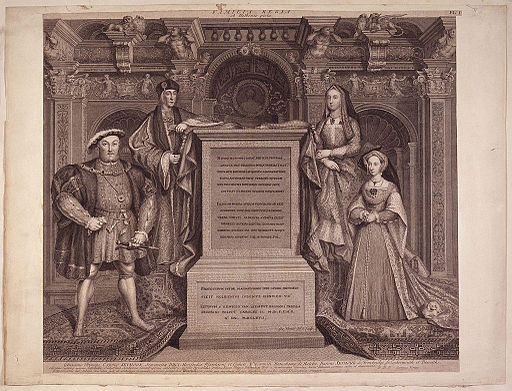 Just before dawn on 25 January 1533, a small group of people gathered in the King's private chapel in Whitehall Palace for Henry VIII's secret wedding to Anne. 'It has been reported throughout a great part of the realm that I married her, which was plainly false,' Cranmer protested, 'for I myself knew not thereof a fortnight after it was done.' The officiating priest was either Dr Rowland Lee, one of the royal chaplains, or George Brown, Prior of the Austin Friars in London. It is more likely to have been Lee, who was preferred to the bishopric of Coventry and Lichfield in 1534. Possibly the priest was informed that the Pope had sanctioned the marriage; a royal envoy had just returned from Rome, leading some to suspect that the Pope had given his tacit consent. As far as Henry was concerned, he had never been lawfully married at all, and was free to enter into wedlock at will.
The few witnesses were all sworn to silence. The marriage, and Anne's pregnancy, remained strictly guarded secrets until Easter Sunday 1533, when, 'loaded with diamonds and other precious stones', she went 'in royal state, openly as queen' to her closet to hear Mass, with sixty maids of honour following her.  Having at long last won her King, she had adopted for her motto the legend 'The Most Happy'.
Henry VIII was at Whitehall Palace when the Tower guns signalled that he was a free man. Immediately, he had himself rowed to Chelsea, where Jane Seymour was waiting. Their affair had been gathering momentum since the autumn. The Privy Council had already petitioned Henry to venture once more into holy wedlock, pleading the uncertainty surrounding the succession, for both the King's daughters had been declared bastards. A speedy marriage was both desirable and necessary, and on the day Anne's head fell, Henry's imminent betrothal to Jane Seymour was announced to the Council. At nine o'clock the next morning, they were formally betrothed at Hampton Court in a ceremony lasting a few minutes.
Henry and Jane were married on 30 May at Whitehall Palace. The ceremony took place in the Queen's closet, with Archbishop Cranmer officiating again. Afterwards, Jane sat enthroned under the canopy of estate in the presence chamber. Some thought it strange that, 'within one and the same month that saw Queen Anne flourishing, accused, condemned and executed, another was assumed into her place, both of bed and honour'.
Jane died in October 1537, after presenting Henry with his longed-for son, Edward. He mourned her deeply, but 'framed his mind' to marry again for the good of his realm.
This is extracted, with thanks, from a longer piece, written by Alison, which appeared in BBC History.
Alison Weir's JANE SEYMOUR: THE HAUNTED QUEEN is available now