A Celebration of the Apollo Program in Books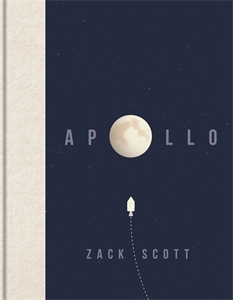 From October 2018 through to December 2022, NASA will be marking the 50th anniversary of the Apollo Program that landed a dozen Americans on the moon between July 1969 and December 1972. To celebrate, we've pulled together our favourite titles that salute space travel and the people that helped achieve this series of marvellous human feats.
APOLLO
Zack Scott
Explore the iconic Apollo space missions and moon landings through these stunning infographics and data visualisations. If you like space, this book is for you.
The Apollo Program ran from 1961 until 1972, and marks one of the greatest accomplishments in all of human endeavour – man walking on the moon. On 20th July 1969, Neil Armstrong and Buzz Aldrin achieved this most remarkable feat, becoming the first humans to visit another celestial body.
Apollo is an extraordinary visual history of the story of this iconic space programme, based on recently released NASA data about the various missions of that name. Using beautifully designed infographics, Apollo takes us through all the astonishing facts and figures, as well as some quirky little-known details, and gives us a detailed and elegant history of the seventeen missions which saw twelve humans step on the surface of the moon. Apollo gives us an insight in to the incredible individuals who made that journey.
THE ASTRONAUT WIVES CLUB
Lily Koppel
www.amazon.co.uk/astronautwives
As American astronauts were launched on death-defying missions, television cameras focused on the brave smiles of their wives. Overnight, these women were transformed from shy military spouses to American royalty: having tea with Jackie Kennedy, attending high society galas, and being featured on the cover of Life magazine. They quickly grew into fashion icons, donning sherbet-swirled Pucci dresses and lacquering their hair into extravagant rocket styles (to match their husbands' spaceships).
Annie Glenn was the envy of the other wives, with her many magazine features; platinum-blonde bombshell Rene Carpenter was proclaimed JFK's favourite; homely Betty Grissom worried her husband was having affairs; Louise Shepard just wanted to be left alone to her card games; and licensed pilot Trudy Cooper arrived on base with a dirty secret. Together they rallied to form the Astronaut Wives Club, which has now turned into over 40 years of enduring friendship.
Sexy and sophisticated, rich in melodrama, and set against the uniquely atmospheric backdrop of the Space Age, THE ASTRONAUTS' WIVES CLUB tells the real story behind some of the biggest heroes in American history, chronicling their romantic, domestic, and public dramas during the Mad Men era.
THE SECRET LIVES OF PLANETS
Paul Murdin
www.amazon.co.uk/Secret-Lives-Planets
An inside guide by astronomer Paul Murdin revealing everything you need to know about the planets, their satellites and our place in the solar system.
We have the impression that the solar system is perfectly regular like a clock, or a planetarium instrument. On a short timescale it is.
But, seen in a longer perspective, the planets, and their satellites, have exciting lives, full of events – for example, did you know that Saturn's moon, Titan, boasts lakes which contain liquid methane surrounded by soaring  hills and valleys, exactly as the earth did before life evolved on our fragile planet? Or that Mercury is the shyest planet? Or, that Mars' biggest volcano is 100 times the size of Earth's, or that its biggest canyon is 10 times the depth of the Grand Canyon, or that it wasn't always red, but blue?
The culmination of a lifetime of astronomy and wonder, The Secret Lives of Planets is out in July 2019.
THE SKEPTIC'S GUIDE TO THE UNIVERSE
Steven Novella
www.amazon.co.uk/Skeptics-Guide-Universe
'A fantastic compendium of skeptical thinking and the perfect primer for anyone who wants to separate fact from fiction.' Richard Wiseman, author 59 Seconds
In this tie-in to their popular 'The Skeptics Guide to the Universe' podcast, Steven Novella, along with 'Skeptical Rogues' Bob Novella, Cara Santa Maria, Jay Novella and Evan Bernstein explain the tenets of skeptical thinking and debunk some of the biggest scientific myths, fallacies and conspiracy theories (anti-vaccines, homeopathy, UFO sightings, and many more.) They'll help us try to make sense of what seems like an increasingly crazy world using powerful tools like science and philosophy.
The Skeptics' Guide to the Universe is your guide through this maze of modern life. It covers essential critical thinking skills, as well as giving insight into how your brain works and how to avoid common pitfalls in thinking. They discuss the difference between science and pseudoscience, how to recognize common science news tropes, how to discuss conspiracy theories with that crazy colleague of yours, and how to apply all of this to everyday life.
As fascinating as it is entertaining, this page turner is your essential guide to seeing through the fake news and media manipulation in our increasingly confusing world.
SHOOT FOR THE MOON
Richard Wiseman
www.amazon.co.uk/Shoot-Moon-Wiseman
Eight key lessons to revolutionise your life with the mindset that got man to the moon.
20th July 1969: Neil Armstrong becomes the first person to walk on the Moon. We all recognize this to be one of mankind's greatest achievements. Yet what did it take to make John F. Kennedy's dream a reality?
In this remarkable book, Professor Richard Wiseman presents a pioneering study of the mindset that took humanity to the Moon, and shows how you can harness and use it to achieve the extraordinary in your everyday life. Combining personal interviews, mission archives and cutting-edge psychology, Wiseman embarks on the ultimate voyage through inner space. Along the way he identifies eight key principles that make up the Apollo Mindset, including how pessimism is crucial to success, and how fear and tragedy can be transformed into hope and optimism.
You will discover a series of practical techniques that you can use to incorporate these winning principles into both your professional and personal life. Whether you want to start a business venture, change careers, find your perfect partner, raise a loving family, get promoted, gain a new qualification, escape the rat race, or pursue a lifelong passion, these techniques will help you to reach your own Moon.
'Fascinating new book examines the history of Nasa's Apollo space missions' Daily Mail
 To celebrate this publication, we sent the book INTO SPACE! Take a look here…