An Unknown Painting of the Young Anne of Cleves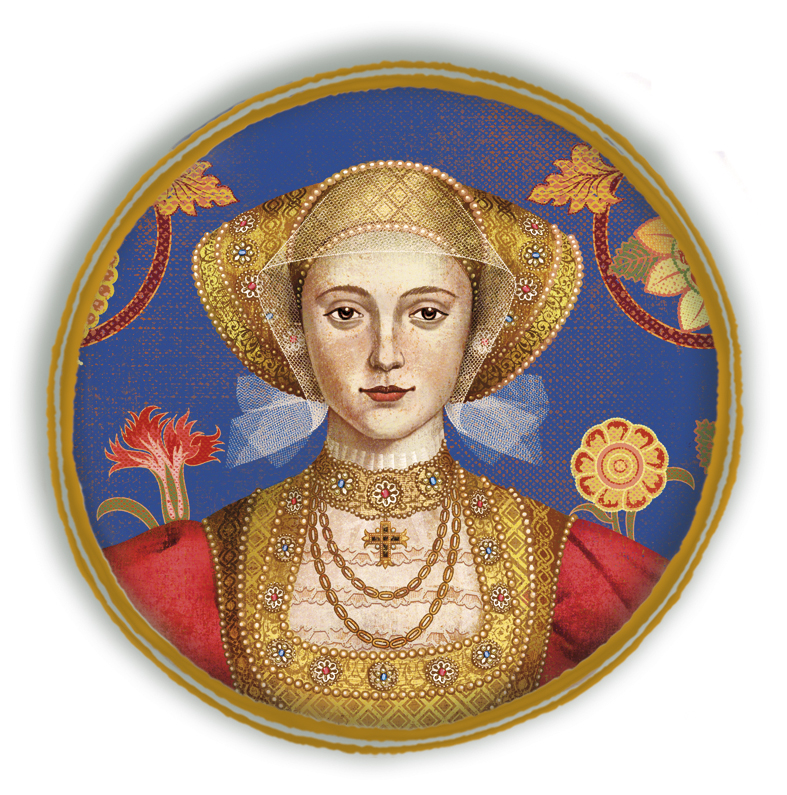 Until last week, I would have stated firmly that there were no portraits of any of Henry VIII's wives as young teenagers. But, wandering around the Basilika of St Lambertus in Dusseldorf (the former capital of Cleves, or Kleve), I was astonished to find this painting. It's one of two triptychs of the Rosenkrantzbruderschaft – the Rosenkranz Brotherhood, or Confraternity of the Rosary, a religious society founded in 1468, which came to have a big community in Cologne.
Painted by an unknown master, possibly from Cologne, it dates from 1528-9. It shows Johann III, Duke of Kleve, and his family adoring the Virgin and Child. The figures are labelled at the bottom and I was excited to find that one – the young girl in yellow or gold to the left of the right panel – is Anna of Kleve, Henry VIII's fourth wife, aged about 13. This image of her is virtually unknown. The few references to the painting on the internet make no mention of its historical significance, or of Anna becoming one of Henry's wives, and none of her biographers mentions it. Although I've been researching royal portraiture (especially Tudor portraiture) for decades – I transferred nearly 87,000 images when I changed computers recently, and that's without those in hard copy – I have never come across this painting until now.
Scholars researching Anna of Cleves must have visited Dusseldorf, the former capital of Cleves, but clearly they haven't come across this painting or realised its significance.  As it is not widely known that it hangs in the basilica, they might not think to go there.  I nearly walked past it. The image of Anna is so unlike the famous portraits of her that it would be easy to miss the connection; she is just one of several donors adoring the Virgin. She is plumper in the face than her adult self, a young girl with puppy fat, which correlates with the profile engraving of her in Auckland Art Gallery (below); the identification as her has long been disputed, but now it is possible to see the likeness. She has the blonde hair mentioned in historical sources, which cannot be seen in later portraits.
Anna's sister 'Amilia' (in red gown) kneels to the right of their mother. There is no other known image of her, but the discovery of this one must put paid to theories that she is the subject of a drawing of an unknown woman by Holbein in the Royal Collection (see below).
The painting is of great historical importance, especially since there can be no doubt as to its authenticity. It's very rare to find a new, unknown and indisputable portrait of one of Henry VIII's wives. It is also fascinating to compare this image with later portraits of the adult Anna by Holbein. (More images of it follow, courtesy of Joanna Marston.)
Anna of Cleves by Holbein, 1539 (Louvre)