Who was Susanna Horenbout?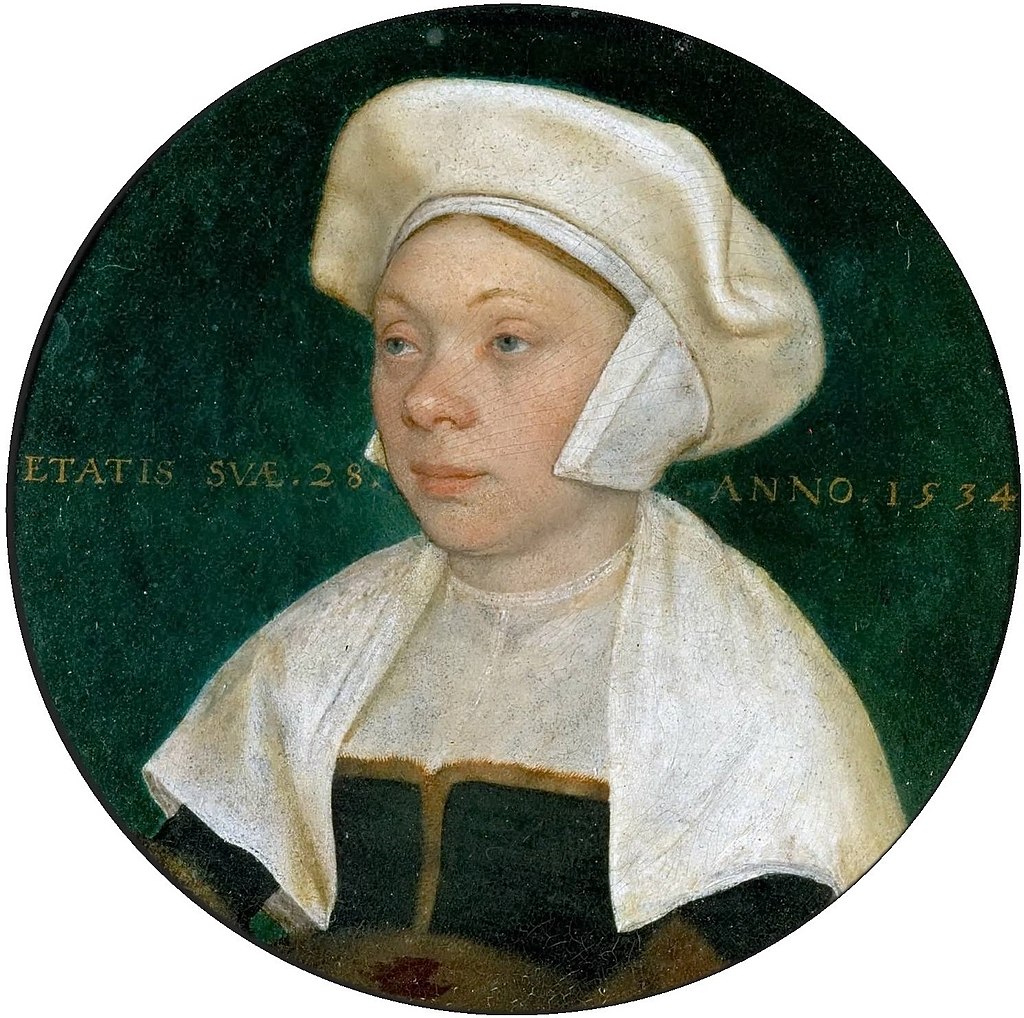 Of about two dozen female artists working in the sixteenth century, Susanna Horenbout is one of the least known. In fact, no work can be attributed to her with confidence. Nevertheless, she is accounted as the first woman painter to have worked in England.
She was actually Flemish and came from an artistic family of Ghent. Her father was the artist Gerard Horenbout (or Hornebolt), court painter to Margaret of Austria, Regent of the Netherlands, and her brother was the miniaturist Lucas Horenbout, both of whom later worked at the court of Henry VIII. The great German painter Albrecht Dürer, who knew and admired Susanna, recorded that she was born around 1503.
Susanna learned her artistic skills in her father's workshop. The family specialised in manuscript illumination and were pioneers of the miniature portrait. By 1521, Susanna had won a reputation as an artist. That year, Dürer visited the Horenbout atelier and purchased her illumination, Salvator Mundi, saying, 'It is a great marvel that a woman should do so much.' Sadly, this work does not survive.
In 1522, at Henry VIII's invitation, the Horenbouts arrived in England and set up a workshop, where they produced portrait miniatures, royal portraits, designs for glass, tapestries and ecclesiastical vestments, and manuscript illuminations deifying the Tudors. They were all employed by the King – Susanna as a 'clever illuminator'. She is known to have painted miniatures that won her royal favour. Around 1526/33, Henry VIII commissioned a fine manuscript of the Acts of the Apostles from her or her brother Lucas.
Around 1525-6, Susanna married John Parker, Keeper of the Palace of Westminster, Yeoman of the King's Crossbows and, later, Yeoman of the King's Robes. When not at court, the couple lived at King's Langley in Hertfordshire and Fulham in London. At New Year 1532 and 1533, the King gave Susanna, a 'gentlewoman of the court', and her husband a gilt cup with cover and twelve gilt spoons. In 1534, the family name was anglicised to Hornebolt in a patent of denization.
In 1536, Susanna was appointed gentlewoman of the privy chamber to Queen Jane Seymour. The following year, John Parker died and left most of his wealth to his brother, bequeathing only an annual rent from his properties to Susanna. When the heirs contested this, she sued them.
When Jane Seymour died in 1537, Susanna lost her court salary and was plunged into penury. In 1539, she married a widower, John Gilman, a freeman of the Vintner's Company of London and, later, Serjeant of the King's Woodyard. The Gilmans lived first in St Bride's parish, London, and later at Richmond.
Two weeks after her marriage to Gilman, Susanna travelled abroad to escort Henry VIII's fourth bride, Anna of Kleve, to England. The King gave her forty pounds to buy fitting attire, since she could not afford to equip herself for court, and paid for her husband to accompany her. Henry VIII probably chose Susanna for this duty because she spoke Flemish or German, and there has been speculation that she was sent to obtain, secretly, information about Anna and those close to her in Kleve.
Susanna was made a gentlewoman of Anna's privy chamber. Anna liked her and came to regard her as 'the first of her gentlewomen'.
After the King divorced Anna, Susanna left royal service for a time, evidently occupied with bearing children. The Gilmans had two sons and two or more daughters. Around 1540, their first child, Henry, was born at Twickenham; Henry VIII was the boy's godfather. The eldest daughter was named Anne, probably after the Queen.
Susanna appears again as a gentlewoman of the privy chamber to Queen Katharine Parr. Her husband became Gentleman Harbinger to the King and still held this office under Henry VIII's daughter, Mary I.
Working as an artist would have been considered beneath a gentlewoman of the Queen's Privy Chamber, and Susanna had probably long since ceased to accept commissions. From around 1546, another woman, her countrywoman, Levina Teerlinc, eclipsed Susanna as a court painter to the Tudor monarchs.
Little is known of Susanna's later years. It is possible that she was appointed a gentlewoman of the privy chamber to Mary I, who made her a gift of two yards of black satin; if so, she did not serve for long. We know she had died, at Worcester, by 1554 – the second year of Mary's reign – because in that year John Gilman remarried.
In The King's Painter, I have woven the bare bones of Susanna's life into a poignant story. Henry VIII has received a strange report about his chosen bride and asks Susanna to investigate further. Susanna goes to Kleve; she befriends Anna and is appointed her chief gentlewoman, all the while remaining the King's confidante. But when the royal marriage founders, there is a bitter falling out…