Six brilliant new reissues in Julian Stockwin's Thomas Kydd series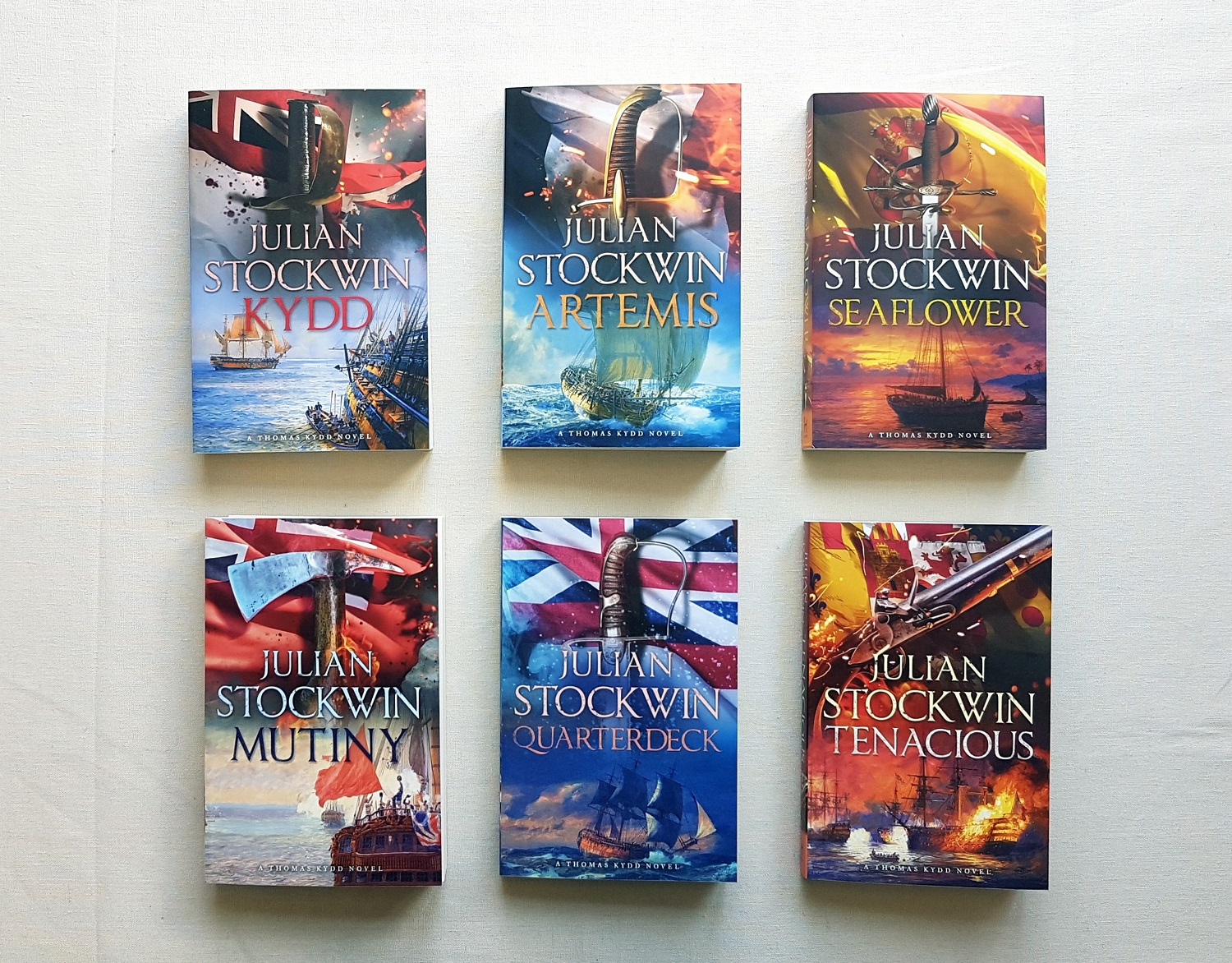 Discover the first six books in Julian Stockwin's seafaring historical adventure series set during the Great Age of Sail, now reissued with a brilliant new cover look. Based on dramatic real events, the Thomas Kydd series is classic storytelling at its very best.
'In Stockwin's hands the sea story will continue to entrance readers across the world' – Guardian
Thomas Paine Kydd, a young wig-maker from Guildford, is seized by the press gang to be a part of the crew of the 98-gun line-of-battle ship Royal William. The ship sails immediately and Kydd has to learn the harsh realities of shipboard life fast. Despite all the danger of tempest and battle he goes through, he comes to admire the skills and courage of the seamen – taking up the challenge himself to become a true sailor.
Based on dramatic real events, it is classic storytelling at its very best, rich with action with exceptional characters and a page-turning narrative.
In the great age of fighting sail, life ranging the seas for prey and prize money in the crack frigate HMS Artemis is fast and exciting.
Now a true Jack Tar, Kydd sails into Portsmouth Harbour and a hero's welcome after a ferocious battle against the French. However his jubilation is cut short when a family matter threatens to take him from the life he has grown to love; he must return to Guildford.
But the sea beckons irresistibly and Kydd manages to ship out again in his beloved Artemis – a voyage that will take him to the fabled East and present him with fierce challenges, both personal and physical. Finally homeward bound, he faces death itself in the cruel waters of the Great Southern Ocean.
It is two years since Thomas Kydd was spirited away in the night to serve his country aboard the old line-of-battle ship Duke William. Now, he and and the other members of the ill-fated Artemis are shipwrecked sailors, back in London waiting to be summoned as court martial witnesses. Then, in a political act to shield an officer's reputation, they are shipped out in haste to the Caribbean – where sugar is king and yellow jack a fearsome peril.
It is 1797 and Thomas Kydd is now master's mate on Achilles, a 64-gun ship-of-the-line, on his way back from the Caribbean. After a dangerous rescue mission to Venice Kydd sails for England, but his joy at returning home after many years' absence is soon forgotten when he finds himself at the centre of one of the most extraordinary events in English history – the Mutiny at the Nore.
Ten thousand men, one thousand guns and scores of ships hold the country to ransom: the government is near collapse; the economy on the brink of ruin.
And Kydd is faced with a terrible choice. Abandon his friends and shipmates? Or join the rebellion and put his career – and even his life – on the line?
Thomas Kydd was promoted to acting lieutenant at the bloody Battle of Camperdown in October 1797. Now, he must sit an examination to confirm his rank – or face an inglorious return before the mast.
But this is only the first of many obstacles for a man who was pressed into the King's Service and discovered a calling for the sea. Kydd is from humble origins, yet he attains the lofty heights of the quarterdeck as an officer in His Majesty's Navy. If he is to avoid spending the rest of his career as a tarpaulin officer, he must also become a gentleman.
Kydd and his enigmatic friend Nicholas Renzi set sail in HMS Tenacious for the North American station. Aboard the old 64-gun ship, Kydd comes to doubt he will ever match up to the high-born gentlemen officers.
Thomas Paine Kydd is in Halifax enjoying the recognition and favour of his fellow officers when Tenacious is summoned to join Horatio Nelson's taskforce on an urgent reconnaissance mission. Intelligence suggests the French Revolution is about to set the Mediterranean ablaze, but Bonaparte's fleet is nowhere to be found. Nelson and his 'Band of Brothers' begin a desperate search for him.
Kydd's newfound ambition fuels his desire to be at the forefront of the hunt. But with power comes responsibility; with responsibility, accountability. Kydd will face his greatest challenge ever amidst bloodstained seas. And defeat will mean humiliation – or death.