Jeska Lyons reviews The Unseeing by Anna Mozzola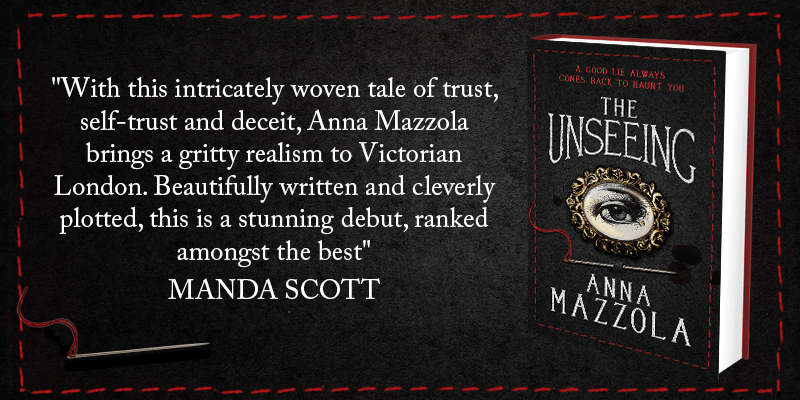 What struck me the most when reading this book was the incredible sense of time and place Mazzola creates, and how vividly she paints a picture of grim 1830s London. We meet Sarah Gale, the epitome of a fallen woman, as she is sentenced to hang for assisting her lover James Greenacre in the murder of the seemingly innocent Hannah Brown. From the first page you are transported into poor Sarah Gales' bleak world, and you don't escape from her reality until you close the book completely.
The atmosphere of Victorian London is conjured beautifully and the sights, smells and sounds that Edmund, the young lawyer assigned to investigate Sarah's case after she makes a plea of innocence, experiences as he makes his way through the city in search of the truth, jump straight off the page at you. London is dark, crowded and menacing, and this sense of entrapment is encapsulated in Mazzola's depiction of Newgate Prison, where Sarah is condemned to spend her final days. As Edmund delves more deeply into the case, he begins to uncover cracks that reveal all is not what it seems. Sarah maintains her innocence, and Edmund begins to believe her.
Mazzola uses both of the main characters to represent the injustices done against women during the Victorian era, as well as the stifling power of class hierarchy and the status quo. Each chapter begins with a quote or extract from a form of Victorian literature, and these serve as soundbites for the entire era. The quote at the beginning of Chapter 13 really stood out to me as a horribly depressing yet entirely accurate portrayal of the prejudice and cruelty women like Sarah faced at that time:
'It follows that, so far as crime is determined by external circumstances, every step made by woman towards her independence is a step towards that precipice at the bottom of which lies prison'
A History of Crime of England
In short, this is a terrific read. Full of atmosphere, intrigue and evocative Victorian history, this is a book you'll struggle to put down.