Six thrilling reads for this Halloween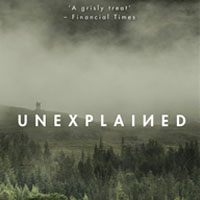 This year for Halloween, we have made a list of six thrilling reads: from wildly fascinating stories of witches around the world to bloody revolutions under the reign of Richard II to odd, unexplained mysteries.
The Virago Book of Witches by Shahrukh Husain
The witch: resilient, edgy, awe-inspiring and potent. She never disappears for long . . .
A collection of more than fifty stories about witches from around the world. There are tales of banshees, crones and beauties in disguise from China, Siberia, the Caribbean, Armenia, Portugal and Australia. The characters featured include Italy's Witch Bea-Witch, Lilith, Kali, and Twitti Glyn Hec.  Alluring women, enchantresses, wise old ladies and bewitching women: they are all here and ready to haunt, entice, possess, transform, challenge – and sometimes even to help.
Dark Water by Elizabeth Lowry
Longlisted for the Walter Scott Prize for Historical Fiction
'Eloquent, impressive . . . while her touch is witty, her manner almost buoyant, her themes are sinister beyond belief. She touches the frontiers of the human' Hilary Mantel
Boston, 1833
Elizabeth Lowry's gothic masterpiece gives the historical novel a new, beating heart. In Carver and Borden, she realizes the dichotomy of savagery and reason, of man and monster, of life and sacrifice, in a tale rich with adventure and glorious imagination.
Mistletoe by Alison Littlewood
'Alison Littlewood has a real talent for building atmosphere, loaded with the promise of things to come -hints of dread with the possibility of hope' Guardian
Leah thought Maitland Farm could give her a new life – but now old ghosts are dragging her into the past. 
Following the tragic deaths of her husband and son, Leah is looking for a new life. Determined to bury her grief in hard work and desperate to escape Christmas and the reminders of what she has lost, she rushes through the purchase of a run-down Yorkshire farmhouse, arriving just as the snow shrouds her new home.
'Alison Littlewood is one of the brightest stars in the horror genre' This is Horror
The Vanishing Witch by Karen Maitland
'A gem, crafte
d in the darkness … Maitland has produced another gripping tale, from a darker age, which has surprising resonances with the present' Independent on Sunday
Lincoln, 1380. A raven-haired kindly widow is newly arrived in John of Gaunt's city, with her two unnaturally beautiful children in tow. But when there's a spate of unnatural deaths whispers turn to witchcraft. The reign of Richard II brings bloody revolution, but does it also give shelter to the black arts?
Read an extract here. 
The King's Witch by Tracy Borman
'Tracy Borman's debut historical novel has it all: conspiracy, betrayal, dark intrigues, bloody deeds, a poignant love story – and the most famous plot in English history.' Alison Weir, author of the Six Tudor Queens series
As she helps to nurse the dying Queen Elizabeth, Frances Gorges longs for the fields and ancient woods of her parents' Hampshire estate, where she has learned to use the flowers and herbs to become a much-loved healer. Frances is happy to stay in her beloved countryside when the new King arrives from Scotland, bringing change, fear and suspicion. His court may be shockingly decadent, but James's religion is Puritan, intolerant of all the old ways; he has already put to death many men for treason and women for witchcraft.
So when her ambitious uncle forcibly brings Frances to court, she is trapped in a claustrophobic world of intrigue and betrayal – and a ready target for the twisted scheming of Lord Cecil, the King's first minister.
Surrounded by mortal dangers, Frances finds happiness only with the precocious young Princess Elizabeth, and Tom Wintour, the one courtier she can trust.

Or can she?
Unexplained by Richard Maclean Smith
'A grisly treat' Financial Times 

Based on the 'world's spookiest podcast' of the same name comes Unexplained: a book of ten real-life mysteries which might be best left unexplained. . .
What can a case of demonic possession in 1970's Germany teach us about free will? What might we learn about how we construct reality from the case of a poltergeist in the Fens? And what can a supposed instance of reincarnation in Middlesbrough tell us about how we develop a concept of the self?
Taking incidents once thought of as supernatural or paranormal and questioning whether radical ideas in science might provide a new but equally extraordinary explanation, Unexplained asks what real-life unexplained events can reveal of our unique human experience.
'These mysteries are all the creepier for being true' Tatler