Author blog post by Heather Marshall
Heather Marshall, author of Looking for Jane, talks of her experience of writing historical fiction.
Historical Fiction: Entertainment as Education 

"I had no idea about this piece of history!" It's a sentence I hear regularly from readers, and see in countless reviews of my debut novel Looking for Jane. The massive surge in popularity over the past decade of historical fiction novels that explore and celebrate the contributions of women is serving to fill a gap in the general public's education about women's history in an accessible and entertaining way. Writers of historical fiction are typically drawn to the genre because they enjoy the process of learning about the past, and I believe the same holds true for consumers of the genre. While being entertained, they also wish to be educated.

As such, writers of this type of fiction are often faced with the question of how close to stick to the historical record when crafting stories from the past. It can be a difficult one to answer, and both writers and readers alike harbour differing opinions on whether an author has an ethical responsibility to depict history accurately, or whether historical fact merely serves as a vague inspiration for the whimsy of the creative process.

The clandestine and secretive nature of illegal underground abortion networks like the one featured in Looking for Jane meant that there wasn't much in the way of an historical record to work from; most of the historical fact I used for the story came from the 'unofficial', oral histories of the women who took part in these initiatives, and from some of the women who utilized them. The fact that I was writing about an era as recent as the 1980s meant that nearly all of the subjects of this history are alive and well. Because of this, I felt a particularly keen sense of obligation to ensure I depicted this history as accurately as I could as a mark of respect for those who experienced it. If I was going to tell this story, I wanted to make sure that I got it right, and so I did follow closely in the wake of the historical record wherever possible.

But when it comes to women's history, we are faced with an additional complicating factor: that most of the historical record was written by men. It at best contains obvious omissions and biases, and at worst eliminates women's contributions entirely. So, in such cases, is the question of adhering to the historical record still relevant?

From a creative perspective, the gaps in the historical record are where a lot of the fun happens for me: where I get to take all that I've learned from what is available and extrapolate that information into plausible, compelling fiction. Generally, when it comes to character creation, I like to pull my characters from the background of major events, basing them off the individuals who weren't necessarily the stars of the show, the ones making headlines, but rather the folks quietly going about their business behind the scenes of history. Often these people are women, because the achievements and contributions of women are so chronically undervalued, ignored, or overshadowed by men. So when I craft these characters, I wonder what they would be doing in relation to the historical context, how they would feel about it, how the socio-political culture of their era would impact them in all sorts of ways, and then pull the threads of known historical fact through the fiction of their lives. But in doing so, I also try to create characters that are still highly relatable to modern readers, teasing out universal themes and lessons that have transcended time and place throughout history to the present day. For me, history is a living, breathing thing, and in making it come alive through characters whose arcs weave in and out of the historical record, it provides both education and entertainment in tandem.

I hope you enjoy Looking for Jane and the remarkable (and alarmingly timely) piece of history it celebrates.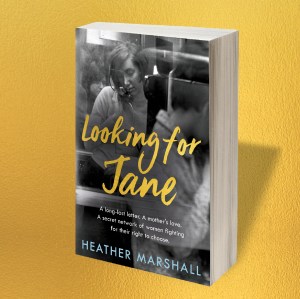 Looking for Jane is out now in eBook and out in paperback on 1st September.
*THE INSTANT NUMBER ONE BESTSELLER IN CANADA*

'A fascinating and compelling story peopled with strong, brave women who had me cheering them on and moved to tears' Tracy Rees, bestselling author of The Rose Garden

'Just tell them you're looking for Jane...'

2017
When Angela discovers a mysterious letter containing a life-shattering confession in a stack of forgotten letters, she begins to look for the intended recipient. Her search takes her to the 1970s and 80s, when a group of daring women operated an illegal underground abortion network known only by its whispered code name: Jane . . .

1971
As a teenager, Dr. Evelyn Taylor was forced to give her baby up for adoption. Swearing she'll do everything she can to make sure other women have the right to choose, she joins the Jane Network to provide safe but illegal abortions. There, she crosses paths with Nancy, who was told that if she ever found herself 'in a position', she should ask for Jane. Nancy soon becomes the Network's newest volunteer, desperately trying to help others while family secrets threaten everything she knows to be true.

Over the years, Evelyn, Nancy, and Angela's lives intertwine to reveal the devastating consequences that come from a lack of choice, and the buried secrets that will always find a way to the surface . . .

Spanning decades, Evelyn, Nancy, and Angela's lives intertwine to reveal the devastating consequences that come from a lack of choice, and the buried truths that will always find a way to the surface...

'A compelling, courageous must-read about motherhood and choice' Genevieve Graham, bestselling author of The Forgotten Home Child

'A beautifully written meditation on the lengths mothers will go to for their children as well as an eye-opening history of women' Janet Skeslien Charles, bestselling author of The Paris Library